Washington
Biden orders release of strategic oil reserves, says high gas prices not caused by clean-energy push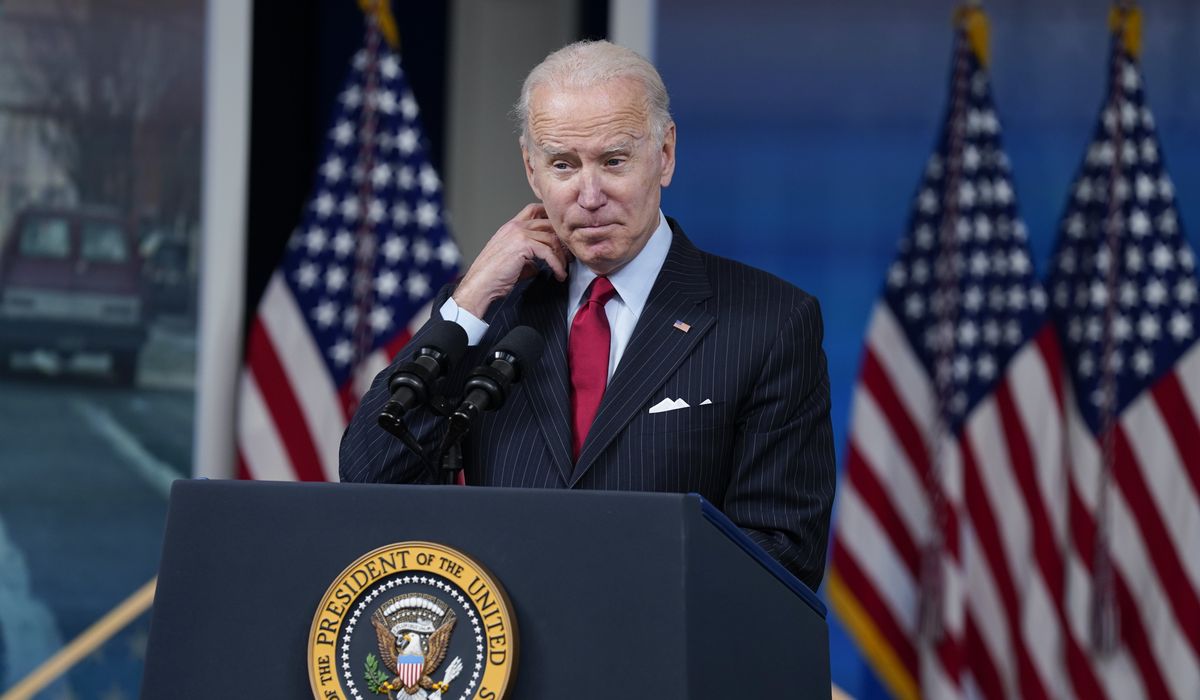 President Biden insisted on Tuesday that Democrats' climate-change policies are not causing high gas prices, as he ordered the release of 50 million barrels of oil from the U.S. Strategic Petroleum Reserve in a bid to ease soaring prices at the pump.
Speaking at the White House, Mr. Biden said he wanted to address a "myth" that gas prices have climbed 61% in the past year because of his clean-energy agenda.
"They're not due to environmental measures," the president said. "My effort to combat climate change is not raising the price of gas … what it's doing is increasing the availability of jobs."
But he also asserted that consumers who buy electric cars instead of gas-powered vehicles "are going to save $800 to $1,000 in fuel costs this year." And he pointed out that gas prices are much higher in France and Japan.
The president's announcement came as gasoline and heating-oil prices have climbed to their highest levels since 2014.  Prices at the pump are up about $1.28 more per gallon, with regular unleaded gasoline selling at an average of $3.40.
Mr. Biden said the release of oil from the nation's strategic reserve would reduce gas prices, although he couldn't say when consumers will notice. He also noted that gas prices had risen higher in 2012 during the Obama administration, to about $3.90 per gallon.
"We're taking action," the president said. "Today we're launching a major effort to moderate the price of oil. He said the results 'ultimately reach your corner gas station, God willing. Our combined actions will not solve the problem of high gas prices overnight. It will take time, but before long you should see the price of gas drop where you fill up your tank."
Oil prices rose even higher after the president's announcement. The price of benchmark Brent Sweet Crude oil increased to $82 per barrel on Tuesday, a jump of 3.1%. The cost of West Texas Intermediate rose to $78 per barrel, up 2.2%.
The White House said China, India, Japan, the Republic of Korea and the United Kingdom will tap into their reserves as part of a coordinated effort. Energy Secretary Jennifer Granholm said the administration estimates that gas prices will fall below $3 per gallon "in early 2022."
Ms. Granholm also urged U.S. oil producers to drill more and ramp up production.
"We are in a transition [to clean energy], and a transition doesn't happen overnight," she said.
Mr. Biden's job-approval ratings have plummeted as inflation has risen to a 31-year high of 6.2%. The cost of consumer goods has soared on everything from groceries to construction materials, and GOP officials said Americans are facing their most expensive Thanksgiving ever.
The president and his advisers have insisted that high inflation is temporary. But General Mills told retail customers that it's raising prices in mid-January on hundreds of items across dozens of brands including Cheerios and Progresso, some by as much as 20%, CNN reported on Wednesday.
On the move to lower oil prices, Mr. Biden said 32 million barrels will eventually be returned to the strategic reserve. The other 18 million have been authorized by Congress for sale.
The move sets up a clash with the Organization of the Petroleum Exporting Countries, or OPEC, which may reassess market conditions and respond by withholding plans to ramp up oil production.
Republicans and a key Democrat, Sen. Joe Manchin III of West Virginia, panned the president's move as a short-lived stunt that would grab headlines but won't reduce prices.
House Minority Whip Steve Scalise, Louisiana Republican, said releasing three days worth of oil from the strategic reserves "is an unserious political move to distract from his failed policies."
"That reserve is supposed to be for real emergencies—not political gimmicks," Mr. Scalise tweeted.
"This could've been avoided if he hadn't destroyed our energy industry."
Sen. Shelley Moore Capito, West Virginia Republican, said the earliest that Mr. Biden's action "could have any kind of limited impact on the market would be after Christmas, but Americans can't wait."
"They are hurting now. And they are feeling the impacts of the administration's runaway inflationary policies by paying higher prices for many things they can't live without as we head into the holidays," she said. "Today's announcement is nothing more than a gesture. If the president and his administration wanted to make a real, long-term impact, they would work to maximize domestic production and expedite energy infrastructure like pipelines—not close federal lands to drilling and add a federal tax to methane."
Mr. Manchin said the move is "an important policy Band-Aid for rising gas prices but does not solve for the self-inflicted wound that shortsighted energy policy is having on our nation."
"With an energy transition underway across the country, it is critical that Washington does not jeopardize America's energy security in the near term and leave consumers vulnerable to rising prices," Mr. Manchin said. "Historic inflation taxes and the lack of a comprehensive all-of-the-above energy policy pose a clear and present threat to American's economic and energy security that can no longer be ignored."
The president blamed rising oil prices on global supply-chain disruptions and increased demand from economies emerging from the two-year-long COVID-19 pandemic. He noted that OPEC+ countries have failed to ramp up production, despite his urging.
Curtis Dubay, a senior economist for the U.S. Chamber of Commerce, said the administration's high-spending policies also are contributing to higher prices for consumers.
"Fiscal stimulus from the various COVID packages has left Americans sitting on nearly $3 trillion of excess savings over and above the pre-COVID baseline, which is fueling increased demand. More money chasing fewer goods is always a recipe for inflation," Mr. Dubay said.
Former President Donald Trump, meanwhile, took credit for filling the reserve while oil prices were low and said Mr. Biden is at the mercy of OPEC.
"I filled them up three years ago, right to the top, when oil prices were very low. Those reserves are meant to be used for serious emergencies, like war, and nothing else," he said. "Now I understand that Joe Biden will be announcing an 'attack' on the newly brimming Strategic Oil Reserves so that he could get the close to record-setting high oil prices artificially lowered."
Mr. Trump did, however, sign major legislation that calls for future sales of oil from the strategic reserve to pay for GOP initiatives.
His 2017 tax overhaul said the secretary of energy "shall draw down and sell from the Strategic Petroleum Reserve 7,000,000 barrels of crude oil during the period of fiscal years 2026 through 2027" and deposit the proceeds in the Treasury.
Just before Mr. Trump took office, then-President Barack Obama signed the bipartisan 21st Century Cures Act, which required the sale of 25 million barrels of crude oil from the reserve in 2017-2019 to pay for provision relating to the National Institutes of Health.
Mr. Biden's move is different in that it is intended to ease the pain on consumers. President Bill Clinton made a similar move in 2000 to counter high prices on the cusp of the home-heating season in an election year, prompting then-presidential candidate George W. Bush to charge it was designed to help his opponent, Vice President Al Gore. Mr. Bush said the reserve is "an insurance policy meant for sudden disruption of oil supplies or for war" — charges that are similar to the ones GOP figures leveled at Mr. Biden
The Biden administration said the congressionally authorized sale of 18 million barrels should not be viewed as an "emergency release" but as a bridge to help consumers get to a period when oil prices might be lower, as the world shakes off shocks from the pandemic.
"The OPEC Plus have said that they are planning to release an additional 400,000 barrels a day, starting in December, and our hope and expectation is that they will continue on that course," a senior official told reporters in a conference call.
Ms. Granholm said according to historical averages, people should be paying about 30 cents less per gallon for gasoline. She noted that Mr. Biden has asked the Federal Trade Commission to investigate the disparities between the cost of crude oil and refined petroleum.
She said the energy industry "is making enormous profits," and the administration wants to encourage U.S. companies "to increase supply."
"They have not turned on the rigs, they have not taken advantage of the [drilling] permits that they have," she said.
Share this news on your Fb,Twitter and Whatsapp