USA
Haiti kidnappings: Michigan vigil prays for missionaries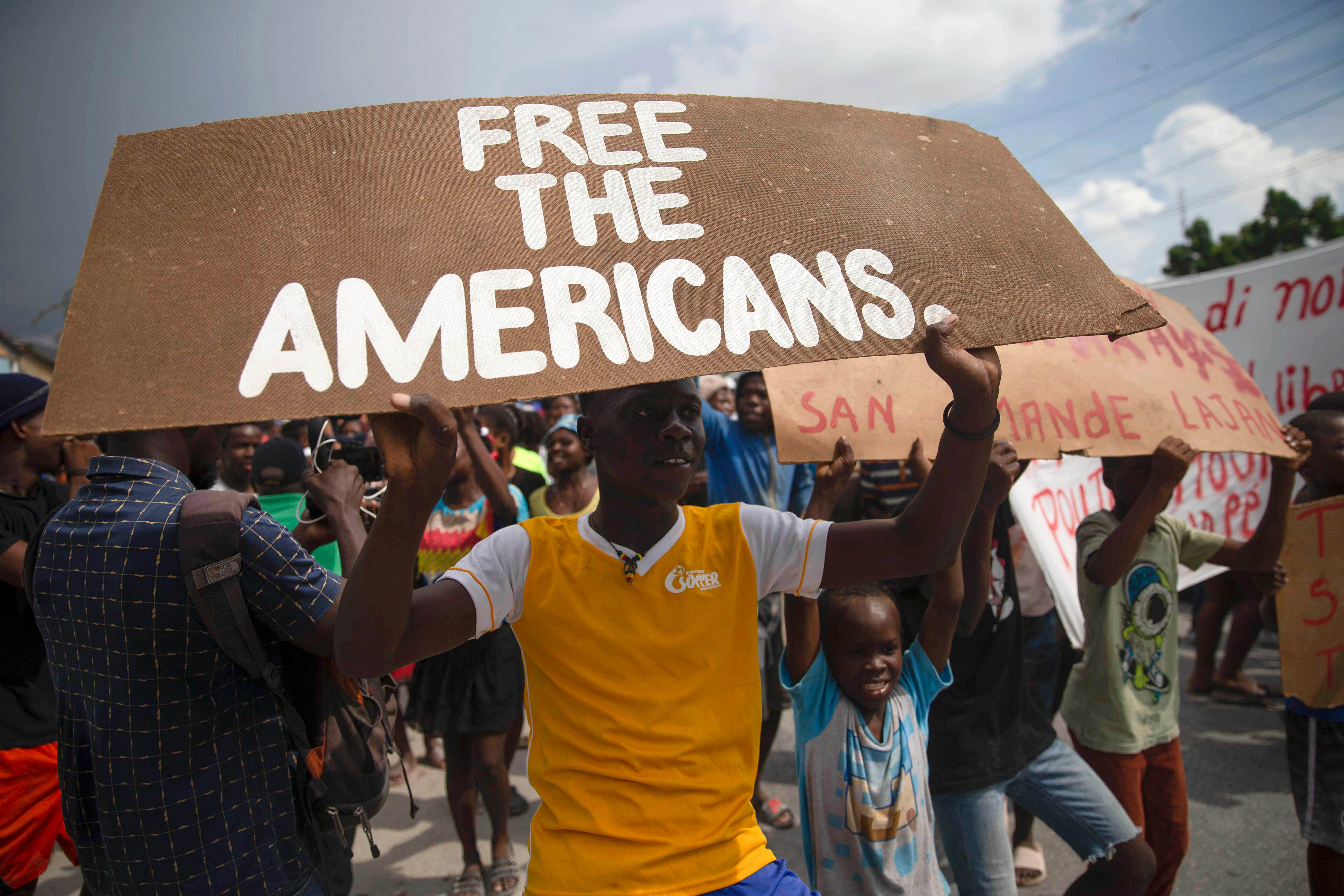 More than 100 people gathered Sunday in Hart, Michigan to pray for the safe release of a local family among who are among 17 members of a missionary group kidnapped by a gang in Haiti more than a week ago.
The leader of the 400 Mawozo gang is threatening to kill those abducted if his demands are not met. Haitian officials have said the gang is seeking $1 million ransom per person.
BOSS OF HAITIAN GANG THREATENS TO KILL KIDNAPPED MISSIONAIRIES
"I swear by thunder that if I don't get what I'm asking for, I will put a bullet in the heads of these Americans," gang leader Wilson Joseph said in a video posted on social media Thursday.
Those at Sunday's vigil in a town park sang and prayed with pastors from several area churches for the safety of the missionaries.
Among those kidnapped were four children and one of their parents from a family in Hart, a town near Lake Michigan about 200 miles (321.87 kilometers) northwest of Detroit, their pastor told The Detroit News. The youngest from the family is under 10, said minister Ron Marks, who did not identify them. They arrived in Haiti earlier this month, he said.
STRIKE IN HAITI OVER CRIME SHUTS DOWN COUNTRY AMID SEARCH FOR MISSIONAIRIES
It is the largest reported kidnapping of its kind in recent years, with Haitian gangs growing more brazen and abductions spiking as the country tries to recover from the July 7 assassination of President Jovenel Moïse and a magnitude 7.2 earthquake that struck southern Haiti on Aug. 14 and killed more than 2,200 people.
At least 328 kidnappings were reported to Haiti's National Police in the first eight months of 2021, compared with a total of 234 for all of 2020, said a report last month by the United Nations Integrated Office in Haiti.
Weston Showalter, spokesman for Ohio-based Christian Aid Ministries, said the families of those kidnapped are from Amish, Mennonite and other conservative Anabaptist communities in Ohio, Michigan, Wisconsin, Tennessee, Pennsylvania, Oregon and Ontario, Canada. He read a letter from the families, who weren't identified by name, in which they said, "God has given our loved ones the unique opportunity to live out our Lord's command to love your enemies." 
CLICK HERE TO GET THE FOX NEWS APP 
The FBI is helping Haitian authorities recover the 16 Americans and one Canadian. A Haitian human rights group said their Haitian driver also was kidnapped.
The Associated Press contributed to this report.
Share this news on your Fb,Twitter and Whatsapp